Larry Berger

, is one of the first Asana Certified Pro Consultants worldwide. He is a project and staff manager with over twenty years of enterprise, small business, and freelance experience. He was an early Asana adopter in 2012 and is an expert in Asana usage, workflows, and API, and an Asana Community Forum Leader.

"Larry introduced Asana to our firm and it has immeasurably improved our ability to be consistently focused, organized and effective in managing work across the company. Now we can't imagine business without it. Larry's customized demos were instrumental in getting our CEO to be an initial champion of the tool. He was a hands-on trainer for our early adopters and created self-study tutorials that are the foundation for how we on-board new users today. He helped us develop the architecture for complex initiatives and created project templates that helped us get off the ground."
Asana Consulting/Training
Independent consultants; no direct affiliation with Asana
Why Asana Consulting? Asana is a powerful tool that can help you individually, with your team, or your whole organization, and in many ways. Yet most users aren't fully harnessing Asana's capabilities and are unaware of the diversity of solutions Asana can provide beyond work tracking and complex project management: multiple levels of calendars, agendas, lightweight CRM, multiple workflow/pipeline projects, information repositories, even custom mini-applications. When so many needs can be well-accommodated by a single tool/repository, many benefits accrue: greater productivity and collaboration, clarity, and accountablity, all while reducing costs as a result of a simplified toolset. Our consulting services help to unlock these benefits quickly and effectively.
Our Process We begin with an assessment: Do you even need a consultant? If not, I'll tell you so and point you to Asana's extensive self-study content. But Asana can be likened to a workshop in that it offers many powerful tools but few prescribed solutions, especially for your unique needs. I can help you learn the nuances of Asana's many features and deploy creative solutions, some already in use by the worldwide Asana community. I'll help you select from among potential solutions and put in place an architecture that will meet your goals while avoiding rework and dead ends. Here are some ways we work with clients:
Create startup, deployment, and onboarding plans
Train your Asana users with the right approach cost-effectively using training plans that integrate Asana's learning tools with custom materials
Work alongside your team to ensure that best practices are followed from the outset and take hold across all users/teams
Gain the full benefits from all that Asana has to offer
Design or improve your existing Asana workflows
Extend the scope of your Asana usage
See and discuss a new approach or solution in real time during your initial consultation call/screen share
Non-profits: I'd like to work with you pro bono or at a reduced rate
"In one session, Larry taught me tons and simplified and improved my workflow process to keep my shop floor running smoothly during maternity leave!"
Asana Integrations & Custom Software Development
"Your Asana2Go app is amazing! It's destined to become a reference application in the Asana ecosystem."
Advice and/or implementation support for off-the-shelf integrations if appropriate
Custom integrations, facilitated by tools such as Zapier, IFTTT, and others, can provide a cost-effective solution without writing any actual code
Custom software using the Asana API offers the most flexible solution
Your Asana projects can be integrated with third-party applications or your own custom software
Solutions can be provided as standalone user-facing applications, browser extensions, or web services
Flexible Reporting with Asana2Go
A multi-purpose tool for both novices and experts to flexibly copy, export and print from Asana
Popular: Over 6k installations
Conceived, designed, and developed solely by Larry Berger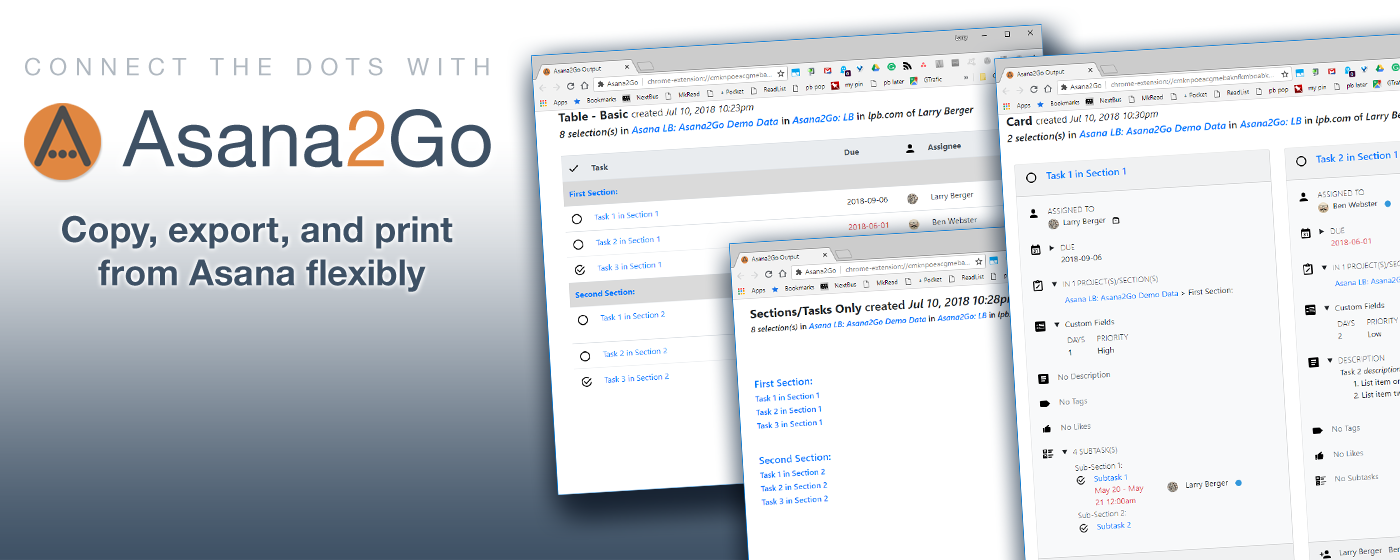 "Ground-breaking . . . [A] great reporting tool."

"LOVING THIS!!!"

"It does reporting just the way Asana should be doing."

"Really impressed. . . . [A] lot of requests . . . will be solved by this tool."
"Simple to use, accessible to anyone, and it just works. A great tool; you're on your way to becoming famous in the community!"
About Larry Berger, Asana Certified Pro Consultant
I'm one of just a few leading Asana consultants worldwide, and an expert in Asana usage, workflows, and API.
As an Asana early adopter (2012), consultant, beta tester, and community contributor, I was selected to participate in the Asana Certified Pro pilot program and became one of the first.
I'm a Forum Leader and active in the Asana Community Forum (forum.asana.com) so you can assess my value via my contributions there. I am #1, even ahead of Asana personnel, in posts read (66k) and viewed (12k). I am in the top three, besides Asana personnel, for likes received (2k) and replies (1.5k).
I created the versatile and popular Asana2Go which has over 6k installations.
I have over twenty years of enterprise (Fortune 500), small business, and freelance experience as a project and staff manager, information architect, interaction designer, usability specialist, and developer.
Get 10% Off Your Asana Plan and a 30-Day Free Trial
Try Asana for free with this unique link in a desktop browser (not mobile) to get the benefits if you're new to Asana, use a domain-specific email address, and after free trial decide to pay for an annual Asana subscription by credit card within 60 days of completing the form.
You may be able to receive 10% off your annual Asana plan (Premium or Business) and/or get a 30-day free trial of Asana Premium.
As an Asana Certified Pro Consultant, I have an affiliate relationship with Asana that may entitle you to these benefits, and may also result in compensation to me for referring a new customer to Asana.
Not Impressed With This Website?
We do not have the eye-catchers you have in mind; with us, the buyers are not disappointed by entering the shop and finding nothing more than was hung up outside.
-- Letter from Seneca to his friend Lucilius (XXXIII.3-4)
Asana is a trademark and service mark of Asana, Inc., registered in the U.S. and in other countries.