About consultant Larry Berger
Asana Services Partner, Technology Partner, Forum Leader, and Event Leader
Larry Berger

, is one of just a few leading Asana consultants worldwide, and an expert in Asana usage, workflows, and API. He is a project and staff manager with over twenty years of enterprise (Fortune 500), small business, and freelance experience.
150+ clients large and small across all for-profit vertical markets and nonprofits
One of the first Asana Certified Pro Consultants worldwide; certified during pilot program
Early Asana adopter in 2012, longtime Asana consultant, beta tester, and friend of Asana
Asana Community Forum Leader and active contributor
#1 in Asana Forum for solutions provided (1k+) and posts read
Creator of the versatile and popular Asana2Go app: over 9k installations and all 5-star reviews
Larry's background is in management of complex, startup- and enterprise-level software design and development. He has held lead roles as information architect, interaction designer, usability specialist, and developer.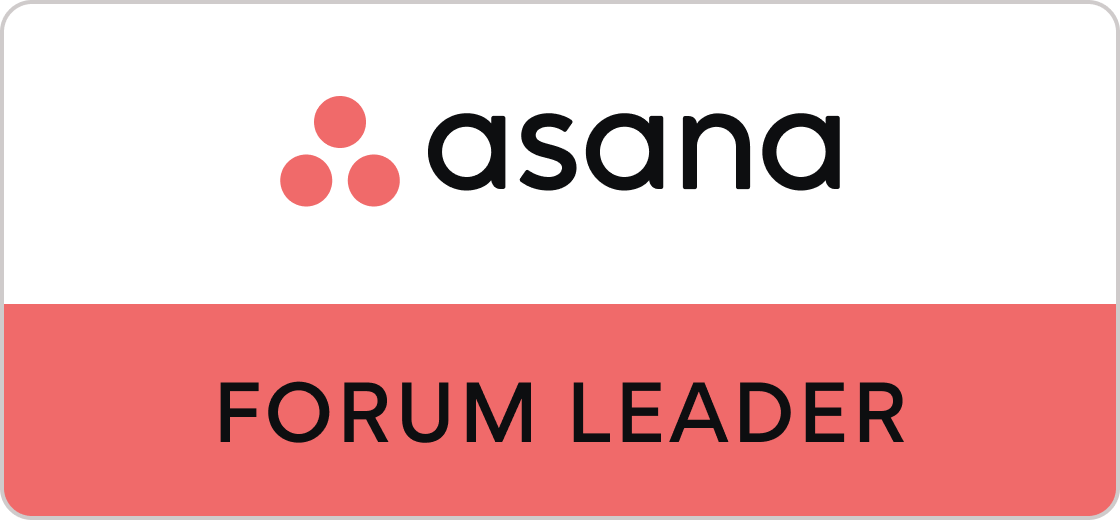 "As our Asana usage increased, updating our workflow process was a daunting task for us. Larry helped us develop an improved process that saved us time and reduced confusion. Larry is great at presenting alternatives for implementation along with their costs and benefits. He went above and beyond by taking the time to coach us on the latest and greatest product improvements. Through his expert guidance and recommendations, I have become a stronger Asana user.  With my increased knowledge, I have the confidence to support our team and keep us performing at a high level. Asana is a tool with many possibilities, but Larry helped us find the solutions that worked best for us. I highly recommend his services."
Asana Consulting with Larry
We begin with an assessment: Do you even need a consultant? If not, I'll tell you so and point you to Asana's extensive self-study content.
Asana can be likened to a workshop of power tools: It offers many powerful features with few prescribed solutions, especially for your unique needs. I can help you navigate Asana's landscape to deploy appropriate, creative solutions.
I'll demonstrate alternatives from my library of customized workflow solutions and help you select from among them to put in place an architecture that will meet your goals while avoiding rework and dead ends.
Here are some ways we work with clients:
Leverage your investment in Asana and improve productivity
Streamline your existing Asana workflows
Do more with Asana throughout your organization
Create and implement Asana deployment and onboarding plans
Work alongside your team; ensure best practices take hold
Implement Asana integrations with your favorite applications
"I don't believe anyone knows Asana better than Larry. You can't ever trick him with an Asana-related question."
"You may be the answer to our prayers! Your remarkable sessions and Asana guidance are enabling us to reach the organizational development vision we have for this company, even in the midst of Covid response."
Self-Paced Asana Citizen Training
Train your team quickly, efficiently, and cost-effectively using Larry's custom training plan, Asana Citizen Training
Suitable for those brand new to Asana and for Asana users looking to level up
Your team learns Asana from within your existing Asana environment
Each team member receives their own Asana 101 project with a dozen short modules to complete at their own pace (about two hours total)
A half-dozen supporting projects provide ongoing references like how to get more help, advanced topics for further study, best practices, etc.
Curated multimedia and proprietary learning resources are focused on just those topics a good Asana Citizen must know to effectively collaborate with others and complete their own work in Asana
A simple dashboard allows tracking completion across your team
Contact us to learn more about Asana Citizen Training and see a demo
"The Asana Citizen Training was so great in helping me deeply understand what Asana can be used for and how I can collaborate with my teammates; I loved learning about how to customize My Tasks and templates to make overlapping projects more organized and streamlined."
Live Interactive Asana Training (Recordable)
Hands-on, interactive training for both new and existing users
Learn the "why" of Asana and the many places where Asana fits into your organization
Gain just the skills you need to start using Asana productively immediately and day-to-day
Personalize your settings, master the key My Tasks area, instantly achieve Asana Inbox Zero, and learn wide-reaching best practices including the three main types of Asana Projects
Two 90-minute sessions over a week or two is typical, but sessions can also be condensed to a single one or extended as desired
Train virtually in one all-hands group, optionally with team-by-team follow-ups
Plenty of time for Q&A to focus on specific features and to address any common issues encountered
Can include your organization's environment, projects, and workflows
"Larry is thoughtful, flexible, and extremely competent. He listened carefully as I explained my organization and its needs, and gave us some amazing, insightful tips for both improving processes that already worked well and overhauling projects that had caused us trouble for ages! I recommend his services very highly."
Asana is a deceptively simple app that offers remarkable power and benefits for: individuals, teams, and entire organizations. Most clients I encounter are only seeing a fraction of the potential value from their Asana implementation. They're unaware of the vast range of solutions, workflows, and features Asana provides.
Even just comprehending what Asana can do is a struggle for many. I present Asana as:
Work management and tracking: Bread-and-butter Asana usage to know who's doing what by when, eliminate work about work, and prevent tasks from falling through the cracks
Project management: Complex or simple, no project manager required; what's the status, what's next, and what's left to do
Workflows/pipelines/mini-applications: Streamline and standardize processes, e. g., an editorial calendar, recruiting tracker, or approach to manage 1:1s with your staff
Information repositories: E. g., department policies/procedures, project documentation, even a lightweight CRM
When so many needs can be so well-accommodated by Asana, many benefits accrue if you more fully utilize Asana, perhaps even eliminating redundant apps from your tool landscape:
Greater productivity
Enhanced collaboration
Clarity and simplicity
Accountablity
Reduced costs
Our Asana Consulting services will enable you to unlock these benefits quickly, effectively, and comprehensively with best-of-class workflow solutions from one of the leading Asana Services Partner consultants worldwide.
"Larry introduced Asana to our firm and it has immeasurably improved our ability to be consistently focused, organized and effective in managing work across the company. Now we can't imagine business without it. Larry's customized demos were instrumental in getting our CEO to be an initial champion of the tool. He was a hands-on trainer for our early adopters and created self-study tutorials that are the foundation for how we on-board new users today. He helped us develop the architecture for complex initiatives and created project templates that helped us get off the ground."
"Your one-hour JumpStart provided many rich insights and I will keep building on the help you provided. So far, I've incorporated Milestones and Status Updates to our heavy project workload. This has allowed me a better understanding of what's happening at any given time. I look forward to working with you again."
Flexible Reporting with Asana2Go
Larry conceived, designed, and developed the Asana2Go app which allows you to copy, export and print from Asana flexibly. It is free for most private and commercial use, well-reviewed (all 5-Star ratings), and popular (over 7k installations).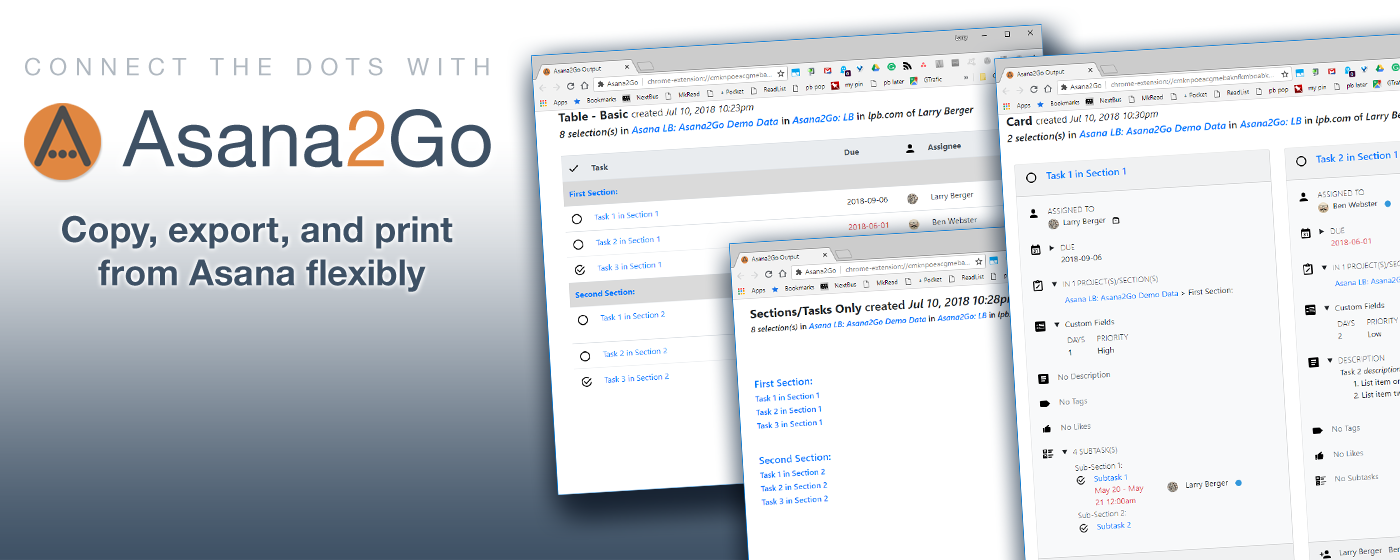 "Ground-breaking . . . [A] great reporting tool."

"LOVING THIS!!!"

"It does reporting just the way Asana should be doing."

"Really impressed. . . . [A] lot of requests . . . will be solved by this tool."
I enjoy working with nonprofits large and small at a reduced rate and sometimes pro bono.
"👋🏽 Larry: The reigning Asana nonprofits champion!! So excited to learn from you."
Featured Articles and Videos by Larry
Not Impressed With This Website?
We do not have the eye-catchers you have in mind; with us, the buyers are not disappointed by entering the shop and finding nothing more than was hung up outside.
-- Letter from Seneca to his friend Lucilius (XXXIII.3-4)
Asana is a trademark and service mark of Asana, Inc., registered in the U.S. and in other countries.